My Van, Tigerlilly:
1972 Dodge Tradesman 100 Van, Best ET: 13.787 seconds @ 101.51 mph. Best 60': 1.943 sec.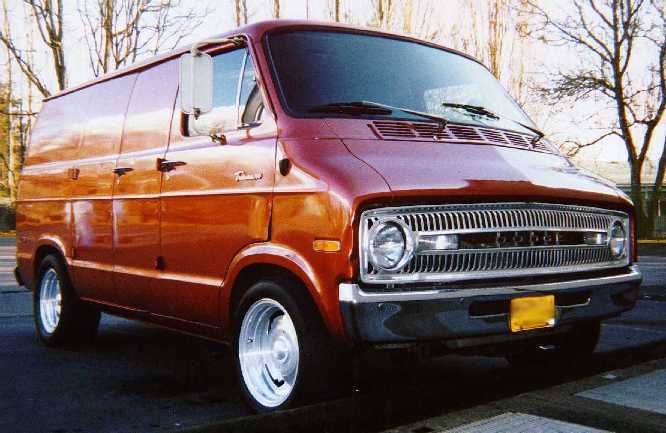 ---
[ Journal Entries ] [ Picture Gallery ] [ Specifications ]
[ Home ] [ My Personal Stuff ] [ My Car Marilyn ] [ My SRT-4 Roxy ]
[ My Brother's Car Luci ] [ Links ]
---


This Moparts.com Member Webring site owned by Moparts Member Alikazam
Previous 5 | Previous | Random | List | Stats | Home | Join | Moparts.com | Next | Next 5
---
---
Journal Entries:
[ back to top ]
(click year to jump to that entry)
[ 1997 ] [ 1998 ] [ 1999 ] [ 2000 ] [ 2001 ] [ 2002 ] [ 2003 ] [ 2006 ]

Well, my van is a bit zippier than before. Previously (1996) it ran the quarter mile in 19.47 seconds at 71.26 mph. Since then I have installed a new Crane Cams hydraulic cam and played with the tuning some, not to mention new Centerline Hatchet 16 x 8 's all the way around wrapped in BFG P225-50 R 16's up front and fat P265-50 R 16's out back (yes, just like a new pair of shoes will make you run faster, these make me GO faster). My best quarter mile time so far is now 16.68 seconds at 85.12 mph. Installing a Street Tach by Autometer helped out some, so that I know when to shift (5000 rpm). I installed a new set of 360 heads that have the exhaust side fully ported and bowl porting on the intake side with 1.92 intake and 1.60 exhaust valves (stainless swirl polished) with a 3 angle valve job and high compression springs for high rpm use. Next i'm gonna freshen up the short block with a 0.060 overbored 360, so it'll have 370 CID. This will help along with actual 9.0 - 9.5 : 1 compression with my power. When I get this all done and run the van a few times down the track, I'll let you know what she can do. Then comes the Dana-60 with a shur-grip differential and 3.73 gears from the current 8 3/8 rear with 3.21 gears. Then my van oughta make them Brand C guys wish they'd jumped on the Mopar Express before the light turned green. Thanks for reading and I'll keep ya posted. :-)
[ back to top ]
Well, looks like its gonna be a 0.040 over 360 instead with a 9.6:1 compression ratio :-) darn it all to heck, its in the machine shop now as I type, so we'll not have to wait long and as soon as the local drag strip opens up for test and tune I'll be able to supply more than just "wow that is soooooo fast" sort of comments to ya :-) Have a happy new year everyone, peace.
[ back to top ]
11/15/1999:
Well, here's the scoop. My van has now run a best of 14.342 in the Quarter Mile at 92.06 mph. Found out that my cam or lifters are screwed up (aka, gone flat or something) on the number 6 cylinder intake side. Anyway, its going to the engine builder and getting a real intake manifold this time. So she ought to be a lil faster than even them 14.3's. Damn I miss driving her that fast! Hell, I miss driving her period! Thanks for the interest. I love having a 1972 Dodge van that can eat most street cars alive :-) (~warm fuzzies~) -- Oh yeah, I got the 360 in there, and a set of ceramic coated Hooker Super Comp headers. 2.5" dual exhaust pipes with Edelbrock RPM stainless steel mufflers and flat oval 2.5" - 1.5"x5" polished stainless exhaust tips. Also running new rubber BFG Comp T/A VR4's. 225/50VR16's in front, 275/50VR16's in rear. Bolted to my Detroit Locker, 3.70:1 geared custom made by Dutchman Motorsports, Portland, OR, ford 9" rear axle. Not to mention the beefy drive shaft. When I raced this last year, ran on 275/50R15's BFG Drag Radials. With a Line Lock, she does some nasty tire smokin burn outs, I tell you what! a Hughes 3000 stall converter later and all these other goodies got me where I am now, lets see what happens when she's back together!
Alright, here are some burnout pics from last years Mopar Power Nationals at Woodburn Drag Strip, July, 1999.
Enjoy: (click on thumbnail to view larger picture)
Keep in mind, this was before I got my new 9" rear end with the Detroit Locker, but I did just install my Line Lock at the time, hehe. So I had a little fun with it. She ran her best time on the 3.21:1 ratio rear with that B&M Tork Master 2000 stall converter in July also with a 14.74 @ 93 mph. Lets just say, good air!
[ back to top ]
Do you know how damn long it takes to get a freakin roller cam from Crane?? It took me over 3 months. Then my damn machinist took his sweet time putting my motor back together. I guess warantee work isn't a "high priority" for him. Anyway, it was June when I finally got my motor back and put in. With everything running good (or so I thought) couldn't cut a time faster than 14.6 at a street legal drags on the drag radials. I wasn't getting traction! I was a little dissappointed that she was running slower with the roller cam than she had been with the old cam. I found out that i was supposed to lower the air pressure to something like 20 psi, but i've never had problems with them before at 32 psi. I still haven't tried that out since I went overboard and bought some Hoosier slicks. Made it to a couple drags and took 2nd place in the Thunder Truck Drags for the Gas Pot class (since I have a van). The first time I ran on these new slicks (which I'd never run on before) I was in 1st, and held the brake pedal with the left foot hard, and the gas with the right up to almost 3000 rpm, what I used to do when I would launch with the old 360 configuration with the other cam I used to have. (forgot to mention put a weiand stealth intake on). I literally pushed my locked front tires through the lights and triggerred my run so ran a dismal 15.2 or so. Next pass I only revved to 2500 rpm and the brakes were holding it this time and ripped off a 14.20 pass. Needless to say, I was very happy she was actually running stronger! It might be due to the fact my brother and I finally figured out the throttle linkage and I can now open a 4bbl carb fully ;-). That day I had a fastest run of 14.172 but lost in the final round when my motor was a little warmer than I like and i ran a 14.26. The next race I went to I was able to run full open headers so I could see if i could beat that time! I didn't place or anything, but I have a new fastest time for my van, 14.160 sec @ 94.15 mph. Man am I happy with that! I'm so close to 13's I can almost taste it! Maybe on a nice cool day I'll hit em? who knows! It could happen.
[ back to top ]
January:
Well, my brother has been playing with his MR2 and I guess it's a good thing. That little car is kinda fun :-). Anyway, he's a member of the Pacific Northwest MR2 Owners Club and they were going to have a "dyno day." He let me know this one guy's slot became open since he had blown out his turbo and we inquired and found out I could bring my van to do a couple pulls with it! Finally! I got to see what she really was cranking out. I was hoping for 300 horsies at the rear wheels. Anyway, I did 2 pulls through the mufflers and 2 pulls with the cut outs open. The pulls went like this:
1st: 377 hp @ 5750 rpm, 346 ft-lbs @ 5750 rpm
2nd: 380 hp @ 6000 rpm, 347 ft-lbs @ 5750 rpm
3rd: 390 hp @ 6000 rpm, 357 ft-lbs @ 5750 rpm
4th: 388 hp @ 5750 rpm, 356 ft-lbs @ 5750 rpm
Holy Geez! that's a lot of horses at the rear wheels if I do say so myself :-) and boy am I a happy camper. They said the highest horse car they tested was a modified twin turbo supra which spat out 411 rear wheel horses. They have only tested street cars as far as I could tell but that was neat. The guy who was operating the Van on the dyno had a big grin on his face after doing the dyno pull with the open pipes. (they specialize in volkswagon's like Rabit GTI's and such so this was only the 2nd V8 they had ever tested and the first automatic.) He said something to the effect of "Damn! We need to get more V8's in here!" Upon examination of the dyno results by the other people there that day, they estimated that this dyno was 15hp optimistic. That, with the fact my curve kinda "jumped" up at a certain rpm, makes me think perhaps my tires were starting to slip and spin on the rollers. Those factors being the case, I'd estimate she's really cranking out 320 rwhp max, with about 310 through the mufflers. Just a guess! Guess I'll have to put her on another dyno that kinda knows how to do V8 cars! That's all for now, I'll keep ya posted :-).
May:
Well, I am having a few problems with tuning on the van, but hey, she is still running strong. It just seems like the bottom end has dropped off a little. Oh well. My brother took her out to the drags and she ran a 14.25. Only 9 hundredths off of her best so I guess I can't complain too much! That's about it for now, will report back later if things change :-).
September:
09/14/2001:
Well, she seems to consistently be running in the 14.20's to 14.30's. I myself have run only a best of 14.31, but there were "circumstances" that lead to that. I just purchased a NOS Super Power Shot kit along with several other items to make the Nitrous use feasible. MSD Window switch (to actuate the NOS only between 3600 and 6200 rpm), MSD Adjustable timing control switch (lets me retard my timing and adjust up to 15 degrees from in the driver's seat), Fuel pressure Safety switch, a second 10 lb. NOS bottle, -6 AN fittings and line for running fuel to the NOS fuel solenoid, a 1" open phenolic carb spacer since I have a dual plane intake, Nitrous Safety Vent tube kit and adapters for both bottles, Nitrous pressure gauge, and of course, the most important thing!, a NOS safety activation switch just like the one that was on Elanore in "Gone In 60 Seconds." With all these things I hope to make using a 100 hp shot of nitrous safe, easy, and reliable, not to mention consistent. I'm shooting for low 13's since I already have a drive shaft safety loop and will most likely need to buy a helmet just to race my Mercury! (Plan on having her run mid to low 12's on engine alone.) So got a race starting tomorrow (Fall Funny Car Classic) so I'd better get going and see what I can do to get all ready for it. Thanks for reading!
09/17/2001:
Guess what? NEW FASTEST TIME!!! Yep, on a cold Sunday morning at 9:04 am at Woodburn Dragstrip, during a time trial (the only one the Sportsman guys would get that day), in the crisp early morning air, She ripped of a 14.030 @ 94.47 mph!!! Whoowhee! I'm still really happy about it! Also cut my 2nd ever sub 2.0 second 60' time with a 1.999. At this event, The Fall Funny Car Classic, I actually got pretty lucky in round one, due to a few factors, but managed to luck my way into round two, thanks to my opponent red lighting. Another bit of luck was there were only 18 people in Sportsman! I ended up having to race the crowd favorite, a 76 year old lady in her new Caddilac. She dialed a 16.21 and I dialed a 14.25 (yes, round 1 was THAT bad!!!). Thankfully, I think it was nap time for grandma as she cut a sleepy .776 light to my dozing .652, and I passed her at the 1/8th mile with ease. I let up and paced her and then at the end, as she started coming on stronger, I put the foot down and held her off to run a 14.40 and take the win. I felt kinda bad not running it out the back door, but I knew I would break out if I did. Besides, she was WAY off her dial !!! Don't judge me too harshly, the crowd already booed me as much as I got thumbs up and cheers. I think people like seeing a van with open headers, slicks, and no hood, blast a low 14 second pass :-). Luck again prevailed, as on a double break out, my oponent bested me by only breaking out by 1/100th, to my 14.091 @ 93.99 mph on my "still" 14.25 dial. We both cut our only sub .6 second reaction times of the weekend that run too, with my .582 to his .526. Hey, we were both surprised! With 5 people left that round, 1 having a bye run, the luck came in the form of the other two guys racing as one of the two losing by red lighting. This, somehow, officially put me into the semi-finals, or top 4. What does this mean? My first paid winnings ever! A crisp $100 check with my name written on it! Well, it was written by hand and with a ball point pen, but it cashes the same. The lady who ended up taking the win said to me, "Now you're a professional! You've been paid." All in all, a very good ending to a rather mundane year of tuning and driving the van. Not bad that it cut a new best ET though, considering the short block now has 20k miles on it! I think the installing of an MSD Billet Distributor and setting it up with 15 degrees inital timing, and 36 degrees total, all in by 2400 rpm, and putting a lighter secondary spring into my Holley helped. I also added a metering block on the vacuum secondaries with 76 jets. I found that I'm still not getting 100% WOT, so if my brother and I can figure out a way to make a sturdy, ball bearing equipped throttle linkage that doesn't flex, we may be able to hit 13's on the engine alone! Now there's a thought ;-). Will get some pictures from the race up as soon as I can get them developed and scanned.
09/23/2001:
Well, a week has passed since the Fall Funny Car Classic and boy, I'm still floating around on good vibes from my 14.03 pass. A years worth of frustration all gone in 14 seconds ;-). I installed my 1" phenolic open spacer and my NOS nitrous plate under the carb, and put a bigger drop base on my air cleaner to get it to all fit under the doghouse (Engine Cover in the van, for the uninitiated). So a buddy sent me a message saying he wanted to head out to the drag strip with, as he put it, "someone who kinda has an idea what they are doing." I guess that's a compliment, but pretty accurate I think, but only because he put "kinda" in there. So I think to myself, this would be a great time to help him out at the strip, and get some testing done on the van to see if the carb spacer and nitrous plate stack up hurt her performance any. Amazingly, I cut a 14.13 second pass at 93.66 mph on my first run. This is about what she is running now, so that's not the amazing part. What is, was the 60 foot time of 1.97 seconds! The carb spacer and nitrous plate actually got me out of the hole quicker! Every pass I made that day was sub 2.0 seconds, with the exception of 1 pass I made, upping my timing to about 20 degrees initial, 41 degrees total. That ended up with a 2.001 second 60' and 14.18 pass. I installed an MSD adjustable timing control, so figured I'd play with it on my last pass. Oh well, I am still pleased that she's scooting right out of the hole quicker! The only other difference from the carb plate/spacer setup and the Fall Funny Car Classic was that I was running through the mufflers this weekend too. At least adding that stuff didn't seem to hurt any, and maybe it helped a little bit! Oh, on a side note, on my best pass of the day, I was on pace for a 14.10 pass, but the timing computer messed up after the 1000' and said I ran a, get this, 13.53 pass. I wish! Anyway, comparing to my 14.091 pass from two weekends before, I had an identicle 1/8th mile time, out to the 1/1000th's, but with a lower mph, and the 1000ft mark et was about 1/100th off. Oh well, good info none the less. Now to get the rest of the NOS kit installed and see how low she can go into the 13's (or maybe 12's? *evil grin*). Just hope she stays together! I also put on some new rubber P245/50VR16's front, BF Goodrich Comp T/A VR4's. They rub a little when the suspension almost bottoms out, so when they wear out, I'll go back to 225's. Reason for the switch was my 225's seemed to wear out on the outter edges more quickly on my 16 x 8" wheels, so I figured some wider rubber to wear more evenly was in order. Oh well, live and learn! Wish me luck with everything and I'll let you know how it goes.
[ back to top ]
02/03/2002:
Well, the NW MR2 Club went back to the dyno again this year. And since my brother was organizing it, I went too. Seems like the guys at Matrix engineering have really gotten their routine down pat and our numbers this year actually looked pretty realistic. This year I did 2 pulls through the mufflers, and 2 throught he cut-outs (open pipes basically). Enough talk, here's what the Van put down:
1st Run: 279.1 hp @ 5200 rpm, 308.5 ft-lbs @ 3700 rpm
2nd Run: 292.2 hp @ 5200 rpm, 342.1 ft-lbs @ 2700 rpm
3rd Run: 296.3 hp @ 5200 rpm, 343.9 ft-lbs @ 2700 rpm
4th Run: 296.3 hp @ 5200 rpm, 364.3 ft-lbs @ 2700 rpm
Boy were those torque curves pretty flat! The first run was a little lower because my van was a little cold. When she hit about 100 mph, she belched out a big cloud of black smoke! Ha ha. I was shooting for 300 rwhp, but I'll take this! The dyno is a Mustang Dynomometer, operated by Matrix Engineering in Beaverton, OR. This is supposed to be a slightly stingy dyno vs. a Dynojet, but then again, comparing 2 different dynos side by side will get you different results every time, so who knows? Anyway, Glad to have some real power figures for her now! With 20% drive train loss (I'm sure I have more than that by about 2 or 3 %), that means my engine is putting out around 370 hp and 430 ft-lbs of torque. Not bad for a Daily Driver :-). Hmmm... Maybe I need a single plane intake and a size larger cam? Ha ha.
04/08/2002:
Well, the points season has begun! So far I'm doing crappy. Trying to re-learn the damned tree! I'm rusty. I have yet to make it out of the first round in 3 attempts so far. Oh well, perseverence will hopefully pay off. At the very least, I'm getting some good practise! That all aside, I'm happy as a clam! The van has made a new best (happened on Saturday before Easter). With a nice clear sky, cool air, and a mild tail wind (2 to 3 mph) she clicked off a 13.893 @ 95.84 mph (highest mph ever!). The engine was a little warm on this pass actually too. I noticed this with a slightly off 60' time of 2.002 sec. So I made sure she was cool and on the next pass (still in the morning) she made her new best of 13.819 sec @ 95.79 mph with a 60' time of 1.954 seconds! Wowsers! I need to wear a helmet now. Good thing I've been bringing my brother's with me each time (just in case, ever hopeful). Well, 4 passes that day, and all of them in the 13's, and man oh man am I not only amazed, but happy. This thing just keeps getting faster! The weekend before, she went 14.024, so I knew the change from 76's to 78's on the secondary jet side had helped a little, so I decided to leave them alone for a while. I also changed to a lighter vacuum secondary spring (1 step). Anyway, the weekend after easter (4/7/02) there was a slight head wind (crap!) of 2 to 3 mph. Needless to say, she slowed down a bit and was running around 14.10 or so, with 93 mph. Oh well, at least I didn't need to put the helmet on! There was 1 glorious pass I made when the wind died down. I had put my hood back on (thought I was done for the day already, but found out they were gonna run a consolation round for 1st round losers), so decided to leave it on. Well, this is now the fastest she's gone with the hood on! 13.956 @ 94.33 mph with a 1.968 60' time. At least she touched the 13's again! It wasn't a fluke :-). So now I move on and hope that she keeps running strong. The engine now has about 30K miles on it and its pulling harder than ever. I love my small block! I'll keep updating as things change or stay the same. Later.
04/27/2002:
Ok, had a Dyno Day I set up today with a lot of local guys and their cars. There happened to be some extra time at the end so decided to slap the van on there just for giggles cuz she's been feeling a little stronger lately and was curious what the good weather would do to my previous numbers. Sure enough, the Dyno said I "did" pick up some power, despite me not having tuned it at all since the last time she was on there. Oh, I have changed the oil since then. Here's the numbers (through the mufflers only):
311.9 hp @ 5000 rpm, 383.0 ft-lbs @ 2750 rpm
312.8 hp @ 5000 rpm, 385.3 ft-lbs @ 2750 rpm
Let's just say, I'm happy. That estimates out to (assuming 20% drivetrain loss): 391 hp and 482 ft-lbs
Damn, I love my small block van! Now I'm just a little (very little) disappointed she makes more power and torque than my Mercury.
[ back to top ]
03/24/2003:
Well, the NW MR2 Club is heading back to the dyno in early April and I'll be there. The only major change since last year will be that I'm getting my NOS Super Powershot Kit installed before then and will be running a 50hp (to start) shot on the van this time! I hope to have some other important updates that don't include "I need new Pistons!" in the future. Later.
[ back to top ]

01/14/2006:
Ok, time for catch-up! Have got the Nitrous System working fairly well now with a Holley Blue pump running on the 1/2" fuel line from the tank to the Nitrous Fuel solenoid. Runs up to 12 PSI past the regulator until you open the solenoid then drops and maintains 6 PSI without any slowing down all the way to redline (6000 rpm). The Blue Pump is only engaged while the nitrous system is armed so you don't have to deal with the loudness a lot. Van posted a new best time on a 50 HP shot of nitrous with a very crappy 2.17 60'. Best ET is now 13.787 @ 101.51 mph. I had a new shortblock built with Wiseco Forged pistons to handle the full 150HP nitrous shot, but the engine goes through oil like its going out of style, so not sure I want to do that yet. The heads were gone through and they were checked again after the smoking started up. All seems good so not sure what it could be? Anyway, been working on other projects and just feeding the van oil. She still runs strong despite that. I think that pretty much covers it? I'm sure I'm forgetting something but I'll update as things change... I think.

[ back to top ]
---
Picture Gallery:
click on link to view full image
[ back to top ]
[ Tigerlilly1.jpg ] [ Tigerlilly2a.jpg ] [ Tigerlilly3a.jpg ] [ TigerlillyInteriorBacka.jpg ]
[ TigerlillyInteriorFronta.jpg ] [ VanStage1.jpg ] [ VanLaunch1.jpg ] [ VanLaunch2.jpg ]
[ VanBurnout1.jpg ] [ VanBurnout2.jpg ] [ VanBurnout3.jpg ] [ VanBurnout4.jpg ]
[ VanBurnout5.jpg ] [ VanBurnout6.jpg ] [ VanBurnout7.jpg ] [ VanBurnout8.jpg ]
[ VanReturnRoad.jpg ] [ VanTraps1.jpg ] [ VanTraps2.jpg ] [ VanMotorIn1.jpg ]
[ VanMotorIn2.jpg ] [ VanMotorIn3.jpg ] [ VanMotorIn4.jpg ] [ VanDynoSheet1a.jpg ]
[ VanDynoSheet2a.jpg ] [ VanDynoSheet3a.jpg ] [ VanDynoSheet4a.jpg ]

[ VanMotorIn5.jpg ]

---
Specifications:
[ back to top ]

Curb Weight: 4400 lbs (approx.) as driven on street
Race Weight: 4100 lbs (approx.) basically with my junk taken out
0 - 60 mph: 6.5 seconds (approx.) best I've ever measured it, though I think it can do lower.
Top Speed: 120 mph (indicated) had the speedo pegged, but really need more gear if I wanna go faster, which I don't... yet.
Weight Distribution Curb. (Front/Rear): 51% / 49%
Rear Wheel Horsepower = 312.8 @ 5000 RPM
Rear Wheel Torque = 385.3 @ 2750 RPM >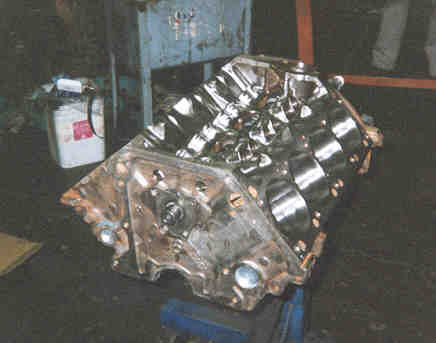 Motor: (366 CID) (estimated price: $7500)
1977 chrysler 360 block bored 0.030" over (4.03" bore)
Forged Flat Top Pistons
10.07:1 compression
Holley 750 Vac. Secondary Carb (3310)
76 primary jets
82 secondary jets (Holley Metering Block conversion)
pink accelerator pump cam
30cc accelerator pump
.031 primary squirters
purple secondary spring (1 lighter than standard)
Quick Change secondary spring kit
Choke Assy completely removed from side of carb and from Choke Horn
1" Open Phenolic Carb Spacer
-6 AN line and Russel fittings from fuel pump to dual feed Carbureator
BG Mechanical Fuel Pressure Gauge
K&N 14 x 3" Open element Air Cleaner
K&N -8 AN Billet Fuel Filter
Weiand Stealth dual plane intake manifold
360 2V Heads from a 1974 dodge van ported and polished by JLS Automotive (local machine shop)
1.92 Intake valve (Stainless Steel swirl polished from Mopar Performance cut down from 2.02")
1.60 Exhaust valve (Stainless Steel swirl polished from Mopar Performance)
Polished Aluminum Valve Covers (Mopar Performance)
Aluminum 6 blade water pump (Mopar Performance)
Flex-A-Lite 10,000 rpm flex fan
Serpentine Belt Pulleys for Alternator/Crank/Waterpump & Brackets (March Performance)
Cloyes Double Roller timing chain
Carter 120 gph/6psi mechanical fuel pump (reads 7.5 to 8 psi at Idle most of the time)
Stock replacement 3 row radiator
Stock Crank (3.58" stroke) w/ARP Main Studs w/windage tray
Stock Connecting Rods w/ARP Pro-Wavelock Rod Bolts
Crane Cams Retro-fit Hydraulic Roller camshaft #3:
222/230 duration at 0.050" lift
284/292 advertised duration
0.509/0.528 lift intake/exhaust
112 lobe center
installed at 107 intake centerline
Crane Race Gold Roller Rockers 1.5:1 ratio
Mopar Performance Windage Tray
Fully Balanced Reciprocating Assembly
MSD 6A igntion system
MSD Blaster SS Coil
MSD 8.5mm Black spark plug wires
MSD Billet Distributor (set at 15 degrees initial timing, and 36 degrees total timing, all in by 2400 rpm)
MSD Digital Multi-Retard (to auto retard the timing when Nitrous is activated)
NGK V-power Spark Plugs gapped at 0.040" (for use with Nitrous)
NGK Platinum Spark Plugs gapped at 0.058"
Hooker Super-Comp Ceramic Coated headers with 1-5/8" primary tubes and 2.5" collector
Full 2.5" dual exhaust with H-pipe and Race Cut-Outs
Magnaflow Stainless Steel Mufflers
Megs oval/angle cut polished stainless steel exhaust tips
NOS Super Power Shot kit and add ons:
1/2" thick nitrous carb plate
10 lb. NOS Nitrous Oxide bottle (blue)
NOS jets for 50, 75, 100, 125, or 150 hp shot (set for 50 hp)
NOS Power Shot solenoids for fuel and N2O
-4 AN line from Nitrous bottle to Nitrous solenoid
-6 AN line from Fuel pump to K&N Fuel Filter to Fuel Solenoid
NOS Nitrous pressure gauge
NOS Fuel pressure safety switch
Second 10 lb. NOS Nitrous Oxide bottle (also blue)
MSD Window Switch (set to operate N2O between 3600 and 6200 rpm only)
WOT NOS activation switch
Red Covered NOS Master Arm Switch (As seen in the movie "Gone In 60 Seconds")
1/2" Moroso Aluminum Fuel line installed from Fuel tank to Fuel pump with -8 AN Ends
Holley Blue Electrid Fuel Pump on 1/2" line by tank to feed N20 System

NOS Purge Valve kit to vent air in nitrous lines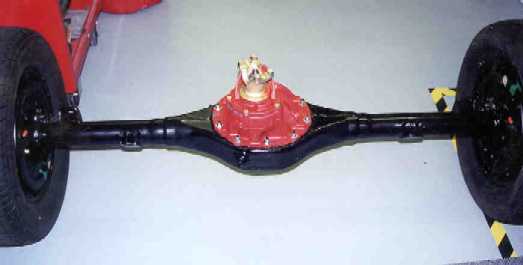 Drivetrain: (estimated price: $3350)
Hughes Converters 3000 stall torque converter w/Anti-Ballooning Plates
Torqueflight A727 transmission
Stage II Trans-go shift kit
B&M Tranny Cooler (HD for 26000 GVW)
Heavy Duty Driveshaft (by Driveline Specialties, Portland, OR)
Spicer U-Joints
Ford 9" custom rearend (by Dutchman Motorsports, Portland, OR) narrowed 1" over my stock rearend
3.70:1 ratio ring and pinion
Detroit Locker
31 spline Dutchman axles (equal length)
Stock 11" front vented disc brakes and single piston calipers
Ford 11" x 2.5" rear drums
Summit Drive Shaft Safety Loop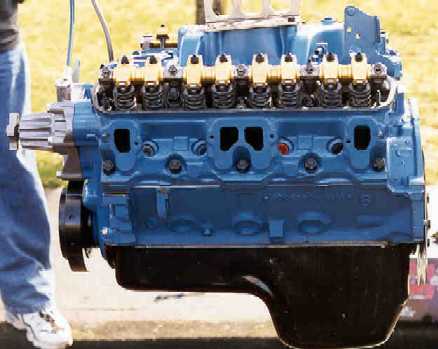 Other: (estimated price: $3800)
Rubber/Front: BFGoodrich Comp T/A VR4 245/50R16
Rubber/Rear: BFGoodrich Radial T/A 265/50R16
Centerline Hatchet 16 x 8" wheels on all 4 corners
Springs/Front: stock replacement with 1 coil cut out
Springs/Rear: custom 3/4 ton leafs with 2" taken out of the arch by Benz Spring Co., Portland, OR
Shocks: KYB Gas-A-Just
Rear Sway Bar with Polyurethane mounts
Solid Motor mount on driver's side, rubber on passenger side
Polyurethane Tranny Tail Mount
Stock Brake Booster with Mopar Performance Aluminum Master Cylinder
TCI Roll Stop line lock
Optima Red Top Battery (put in May of '98, still going strong!)
Autometer Street Tach Tachometer
Stock Gauges (oil/fuel/amp/temp/speedo)
K&N Oxygen sensor
Blaupunkt Ventura Detatchable Face Radio with CD Player
Kenwood 6" round 3-way speakers in front doors
Pioneer 6 x 9" 3-way speakers in the back in boxes built into the walls
Custom interior done by self and family (materials came with van for the $650 price tag)
DRIVEN DAILY!
---
---
Web Page By: Alikazam
Last Revised: 01/14/2006
email: alikazam2000@hotmail.com