My Car, Marilyn:
1963 1/2 Mercury Monterey Marauder, Best ET: 13.994 seconds @ 98.74 mph, Best 60': 2.05 sec.


---
[ Journal Entries ] [ Picture Gallery ] [ Specifications ]
[ Home ] [ My Personal Stuff ] [ My Van Tigerlilly ] [ My SRT-4 Roxy ]
[ My Brother's Car Luci ] [ Links ]
---
Journal Entries:
[ back to top ]
(click year to jump to that entry)
Bought her August of 1999. She's a 1963 Mercury Marauder, 2 door hard top. Got a 390. Almost all original, as soon as I scan a picture, I'll put it up here. Anyway, That's about it for now. I mean really, who wants to drive around in a pink car all the time? Well, so what if its fun and girls love it? hehe. You'll see what I mean as soon as I get the picture. Also, bought my brother's 390 from his 67 Galaxie 500 and am gonna do an engine kit to it, just to seal up a couple oil leaks, maybe a cam change and some other small stuff I can do at home. It ran a best of 14.13 in his car and she's a little heavier than Marilyn. I want her runnin in the 12-13 second range eventually (cuz frankly, I don't want to put in a roll bar or anything too fancy just for racing).
[ back to top ]
Well I have been acumulating parts and slowly putting her together. The motor has been cleaned up, repainted black, new valve covers, heads and other things. I'll give a more complete list of what it has in the future along with some pictures hopefully :-).
[ back to top ]
2/5/2001:
Well I got her old motor out today. Man that engine bay is dirty! Need to clean it up and give it a good coat of rust inhibiting gloss black. Am going to get a front suspension rebuild kit as well and go through the front suspension. My brother is a bit upset cuz he thinks it's going to mean my car will be in his driveway for another 2 weeks than it would already be, so I'd better make sure I don't dally and get crackin on the kit as soon as it arrives. Having all new front suspension parts will make life better I think. Still not sure how those Super comp headers are going to fit in there. They have 1 7/8" primary tubes, and 1 on the driver's side, and 2 on the passenger's side go around the frame in the fender well sorta, then back under the frame. Also got rid of the FMX tranny but I'm not sure how easy it is going to be to put the C6 trans in there. We'll see when we get there. First things first, Engine bay and front suspension. And new wires and wiring guides.
5/27/2001:
Got back from Europe about 2 weeks ago and thanks in large part to my brother, She lives again! The engine bay has been totally repainted after being stripped by hand. Everything was reinstalled with care to keep a "clean" engine bay. So far the only casualty to the motor swap was the fuel gauge no longer appears to function properly, always reading full. That aside, the 401.6 CID motor (0.060 overbored 390) pulls strong! Even with the granny gear (3.00:1 ratio) I can still spin one of the big 275/50R15 tires off the line most of the time. I'm just really happy she is back to a driveable state and I can now get down to just tuning her carb for optimum performance. Some of the real headaches of the install were the C6 trans. We had to "clearance" the trans tunnel a bit for it to fit. Not to mention welding in some extra support brackets for the trans cross member. The E-Brake is also inoperable now. (Good thing its an automatic eh?) The headers were fun too... Lets just hope they don't have to come out any time soon. We had to cut holes in the inner fenders to clear the 2 tubes on the passenger side, and 1 tube on the driver's side that go around the outside of the frame. We cut 1 coil out of the front springs and installed KYB Gas-A-Just shocks. She has a bit of a rake now and rides very nice, though the "temporary" exhaust (a.k.a. collector mounted cherry bombs) scrapes from time to time. Dems da berries. It was good to find that the C6 was about the same length as the old FMX trans and I was able to use my old driveshaft. I took some pictures with a better digital camera and uploaded them to this site. Will let you know how she runs as soon as I can get my brother and myself out with his G-Tech. Talk at ya later.
9/14/2001:
Well, I haven't updated till now for a few reasons. First, I ended up bending one of my pushrods. I just so happened it was on a lifter that I was suspect of during the installation because it wouldn't compress nearly as easilly as all the other lifters. I have now replaced that lifter. In the process of doing this, I found that some of my other Pushrods were rubbing against some casting flash on my StreetMaster390 intake manifold. So I bit the bullet and decided to pull the intake manifold off. I found, underneath it, another can of worms. There are hairline cracks in the lifter valley that have been venting coolant into the lifter valley! DAMN IT. Ok, ok, calm calm. So I've decided to grind out the cracks and fill them with JB Weld (this stuff is awesome). I will eventually build a new shortblock for her, but for now, I hope this will hold up! I also purchased 7 3" mandrel 180 degree bends so I can run the full 3" exhaust system with X-pipe, cut outs, and flanges placed as necessary. Hopefully this will do away with any restriction I was having while trying to tune my 390 with, "gulp," cherry bombs on there! These were and always have been only a temporary exhaust system so that she'd be street legal. While I had the intake off, I found some information out about porting this particulat intake to make some good performance with it. I openned up all the runners and the intake plenum. This didn't take much time at all and it sure looks like it'll flow better! I also am going to run Crane's Ductile Iron adjustable rockers on new Harland Sharp rocker shafts, with DSCMotorsports Iron Shaft stands (like early 427 low riser ones) and solid rocker spacers instead of the weak factory spring spacers. Going to get 5/16" diameter pushrods with hardened shafts custom made by Smith Brothers as soon as I can get a propper length on what they should be. This is for clearance issues as the Crane pushrods I currently have for the adjustable rockers are 3/8" diameter and I'm SURE will cause some clearance problems that I don't really want to have to deal with. So for now, she's in a few pieces, but the intake is ported, and some valve train parts are on the way, or soon will be. I hope to have her running again before the end of October! (Really hope to have her done before the end of September, but then again, I'm realistic about myself and other projects I've been working on!) Thanks for reading and the interest.
[ back to top ]
3/6/2002: Yes, I know it's been a while, but here goes. Finally got a job again and could afford to put her back together! I need to say something up front here though. Crane Ductile Iron adjustable rocker arms have a SERIOUS PROBLEM. They designed them so that the adjuster screws are further away from the lifter than a standard adjustable rocker. Crane's own ball/cup pushrods are TOO SHORT! I mistakenly ordered a set of Smith Bros. pushrods using the Crane pushrods as a measurement, and ended up with a custom set of pushrods that were too short! Talk about learning the hard way. After finally mocking up the valve-train and everything else, I measured it out and ordered another set of pushrods (at $120 a set, still cheaper than different anything else!) with hardened chrome-moly shafts and 3/8" radius ball and cup, with an effective length (from bottom of cup to end of ball) of 9.28". The Crane pushrods measured 9.06" EL (effective length) and the set I previously had ordered came with 9.05" EL (as ordered). Anyway, that asside, let me tell you how the rest is going.
I got the engine together, and had a heck of a time getting the engine to fire up! You don't EVEN want to see what the 5 bad lifters (probably mostly from trying to be lubricated with water instead of oil cuz of the crack in the lifter valley) that got toasted. I'm amazed I made it up the hill when she was dying! Back to starting her up. Spent most of a day finding out I really hadn't checked the spark plug wiring order as well as I'd thought. #6 and #7 wires were switched. DOH! Anyway, when she did fire, boy was there a huge grin on my face! I'm a happy man again! Love the sound of open 3.5" collectors on a 390. She's Alive! I drove her a little bit (around 100 to 150 miles so far) and all the fluid levels appear to be staying level! At least it appears the JB-Weld is holding up. The stupid power steering fluid appears to like leaking a lot more than it used to! It's getting on the headers in hot-idle traffic and making me look bad by smoking lightly while I'm at a stop. Bastid PS system! I guess I should fix it all anyway. I fixed a few electrical gremlins, like the brake lights and turn signals! Apparently some farmer-john in the past had done a wiring fix that consisted of twisting the two wire ends together and putting a cap on em. NOT a good electrical connection. So I crimped on some butt connections and things are going better! Put in a light bulb for the under-dash light on the driver's side and it works now too. All my interior/dome lights work! Put all new fuses in the fuse box as well and bent the contacts so they would make good contact. So far so good!
I'm currently trying to fix my driver's side window. It got broken out by someone who thought egging a '63 car was a good idea. Had I found that person, they'd find themselves thinking that a '63 car sure had heavy doors (as I introduced their face to it). Anyway, am taking measurements and what not, need to do some welding as this window apparently had the same farmer-john type fix in the past at some point. So I'm going to fix it right so it'll actually seal up with the rear side window like the passenger side does! Anyway, things are otherwise going well! I love being able to drive her again. Sure gets a lot more looks that when I drive around in my van, but with no driver's side window, she's a "sunny day" only cruiser for now. Talk to you later.
4/27/02: Yes today was a Dyno day I set up with a lot of local guys' Muscle Cars. Mostly Mopar guys (as I have a mopar van and am most active on a Mopar chat board), but a few Chevy's, 1 Ford, and my Mercury. I installed a 3" mandrel bent exhaust system with an X-pipe, all with the help of my brother ( http://www.koracing.net ), and using Edelbrock Heavy Duty Victor Series 3" center in/out mufflers. Lets just say "LOUD" is a good description. The X-pipe seems to add a bit of that "180 degree exhaust" sound to it too. Kind of a higher pitched noise like you'd here in a race car, ferrari, or such. Not a lot, but it is definitely noticable and really makes the big block FE engine sound "different." It's growing on me. After we got that done, I spent a day tuning the Speed Demon 750 VS carb. Well, after not quite getting it to where it opens smoothly without any hesitation, finally said good enough for a dyno pull, though my O2 sensor is still showing it a little lean at WOT, or should I say "not rich enough." At any rate, here's the inital numbers she put down on the Mustang 250 Chassis Dyno (numbers are at the rear wheels):
Through mufflers and full exhaust (RPM is rear tire RPM approx.):
296.6 HP @ 4750 rpm, 353.3 FT-LBS @ 3750 rpm
298.8 HP @ 4750 rpm, 367.8 FT-LBS @ 3750 rpm
Through the cut-outs (3") behind the collectors (RPM is rear tire RPM approx.):
306.4 HP @ 4750 rpm, 368.6 FT-LBS @ 3750 rpm
309.8 HP @ 4750 rpm, 369.4 FT-LBS @ 3750 rpm
So it looks like the cut-outs are good for about 10 hp at the rear wheels, and about 1 ft-lb. At least it's an excuse to uncork it! I wonder how much I could pick up with some more carb tuning? This was also with a 3.0:1 rear gear, so numbers should rise slightly when I get some 3.55:1 rear gears in there. Anyway, had a blast. She sure is much more fun to drive... just need to keep tweaking the carb till she runs perfectly and you can mash the gas to the floor in a haze of fluffy whiteness (or tire smoke works). Hopefully I'll get her out to the drag strip next week and see what she can do. It'd be her maiden voyage down the strip. That's pretty much it for now!

[ back to top ]

Why yes I HAVE been delinquent in posting updates here. So here goes a quick summary of the past couple years: Drove her for a little while, ended up going down the quarter mile on street tires at the local Portland International Raceway Night Drags, ran a best of 13.994 @ 98.74 mph! On street tires, pulling a 2.05 60' time. This is with the rebuilt C6 tranny and 3000 stall hughes converter, 3.70:1 rear gears with 31 spline dutchman axles and a detroit locker, with spicer U-Joints. My brother (with the old 3.0 rear end) pulled a 14.01 @ 100.5 mph. Not sure yet why she didn't pick up any time but she launches better at least. At any rate, the tranny and rearend will now both handle 700 hp. My brother has been buzzing in my ear about a twin turbo and fuel injection setup so ... sure why not? I'll have to wait on funds, but I think it would be cool. It hasn't All been gravy fun times tho, she ended up dying on me again. That short block with the crack that ate one cam finally stopped giving any oil pressure and boy did that sound crappy! I scored a "good running" 390 from a guy for $300 so am swapping that short block into my Mercury just so she's drivable while I decide what I want to do about the next incarnation. As we speak the mechanic (new job = more money than time) is swapping it for me as I type this (1/13/06) so she will be living again soon. At any rate, I hope to get a fuel injection setup, bigger front sway bar, and upgrade the brakes as the next steps. Will update as time and funds allow! Oh, she has a rear anti-sway bar now, and new KYB GR2 shocks in the rear, with Lakewood Slappers on her too (Modified some fairlane ones, elongated a few holes and they bolted up!). They're black so not very noticable. She almost sorta takes a corner now! Weird. Peace out for now.


---
Picture Gallery:
click on link to view full image
keep in mind these are shot with a digital camera.
[ back to top ]
[ Marilyn1.jpg ] [ Marilyn2.jpg ] [ Marilyn3.jpg ] [ Marilyn4.jpg ]
[ Marilyn5.jpg ] [ Marilyn6.jpg ] [ Marilyn7.jpg ]
[ MarilynPaintEngineBay1.jpg ] [ MarilynPaintEngineBay2.jpg ]
[ MarilynPaintEngineBay3.jpg ] [ MarilynPaintEngineBay4.jpg ]
[ MarilynPaintEngineBay5.jpg ] [ MarilynPaintEngineBay6.jpg ]
[ MarilynPaintEngineBay7.jpg ] [ MarilynNoMotor1.jpg ]
[ MarilynNoMotor2.jpg ] [ MarilynNoMotor3.jpg ] [ MarilynNoMotor4.jpg ]
[ StreetMaster390NotPorted.jpg ] [ StreetMaster390Ported1.jpg ]
[ StreetMaster390Ported2.jpg ] [ MarilynDynoSheet1a.jpg ] [ MarilynDynoSheet2a.jpg ]
---
Specifications:
[ back to top ]
(this is my brother's motor from Luci that I bought to build for Marilyn)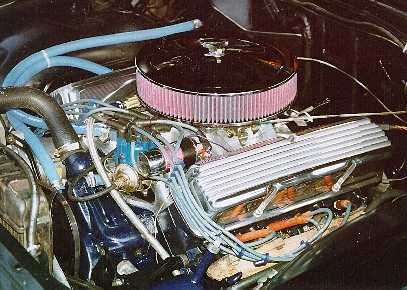 (here is the motor now as she sits in Marilyn)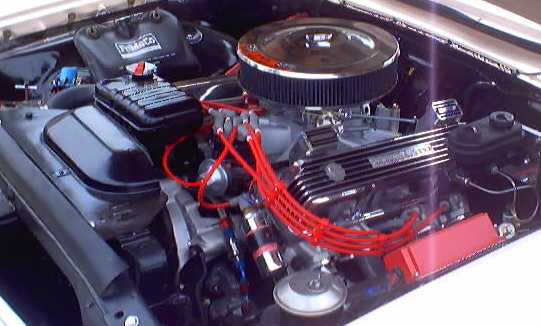 Motor: (390 CID) (estimated price $4100)
Ford 390 FE block stock Bore
Stock Cast Pistons
9-ish :1 compression ? (used shortblock)
Sealed Power High Volume Oil Pump
SpeedDemon 750 Vac. Secondary Carb with 1" Phenolic Carb Spacer
K&N 14 x 3" Open element Air Cleaner
Edelbrock StreetMaster 390 single plane intake manifold (plenum ported and runners enlarged to match heads better)
Edelbrock Performer RPM heads (72cc chambers) fully assembled P/N: 6006
2.09 Intake valve (Stainless Steel)
1.66 Exhaust valve (Stainless Steel)
Polished Aluminum Valve Covers (Offenhauser)
Aluminum Victor Series Water pump (Edelbrock)
Flex-A-Lite 10,000 rpm flex fan
Stock Double Groove Pulleys for Alternator/Crank/Waterpump/Power Steering
Stock Crank Balancer
Edelbrock Double Roller timing chain
Carter 120 gph/6psi mechanical fuel pump
B&M 28,000 GVW Tranny Cooler
Stock 2 row side-flow radiator with built in water to oil tranny cooler
Stock Crank (3.784" stroke)
Stock Connecting Rods
Stock Main Bolts
Crane Cams PowerMax H-278-2 hydraulic flat tappet cam: >
222/234 duration at 0.050" lift
278/290 advertised duration
0.548/0.580 lift intake/exhaust
114 lobe center
installed at 109 intake centerline (degreed in)
SpeedPro hydraulic lifters
Crane Ductile Iron 1.76:1 Adjustable Rockers
Harland Sharp Hardened Rocker Shafts
DSC Motorsports Rockers Shaft Stands and Solid Spacers
Smith Brothers hardened shaft 5/16" diameter pushrods (9.28" EL)
Ford Motorsport Windage Tray
MSD 6A igntion system
MSD Blaster 2 Coil
MSD 8.5mm spark plug wires
MSD Pro-Billet Distributor (12 deg Inital/37 deg total, all in by 2800 rpm)
NGK V-Power Spark Plugs gapped at 0.058"
Hooker Super-Comp Ceramic Coated headers with 1-7/8" primary tubes and 3.5" collector
KO Racing made X-pipe
Mandrel 3" ehxaust system with Flowtech 3" Race Readies Cut-outs
Edelbrock Victor Series Stainless Steel Mufflers (3" center in/out) (P/N: 5525)
3.70:1 rear gear ratio with 31 spline Dutchman axles and Detroit Locker Differential
9+ Center Sectoin with Daytona Hat for Pinions Support Bearing
Spicer U-Joints
3000 stall Hughes Converter


Future Additions:
Front Disc Brake Conversion
7" Power Brake Booster
Fuel Injection with Stand Alone Engine Control
Twin Turbos (T04R's possibly?)


Estimated Output:
400 hp @ 5500 rpm
450 ft-lbs @ 4000 rpm
---
---
Web Page By: Alikazam
Last Revised: 01/14/2006
email: alikazam2000@hotmail.com